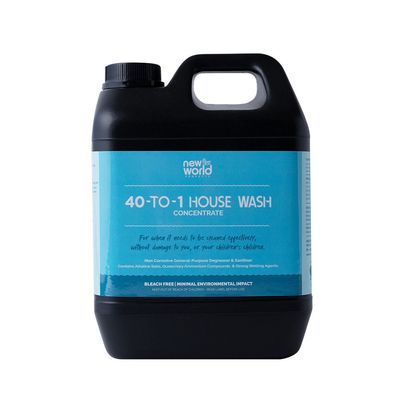 40 to 1 House Wash 20 litres
New World Products
$149.00
40 to 1 House Wash is mildly alkaline which provides proven grease cutting power. Unlike simple caustic soda, 40 to 1 derives it's alkalinity from Sodium Metasilicate, which does not react with aluminium joinery, brass or copper.

To enhance the action of the Metasilicate, 40 to 1 is boosted by a uniquely optimised blend of surfactant which washes away oxidised paint, dirt, dust and grime.""

Why you should wash your building:

They look better after washing.
Washing prolongs paint life.
You should wash before repainting.
You'll be surprised how much dirt and oxidised paint washes off.

N.B. If you live near the sea or in a very dusty area you should wash your buildings twice a year.

Dilution rates:

Washing buildings, dilute 1 -40 water. At this strength it is also a disinfectant. On all surfaces, spray on neat, leave 10-15 minutes then scrub and hose off.
Cleaning BBQ's dilute 1-10.
Rejuvenating bare timber decks and unpainted wooden garden furniture. Spray on neat , leave 10-15 minutes then scrub and hose off.
Removing oil and grease from concrete and engines of motor vehicles. Spray on neat , leave 10 minutes then waterblast off.
SKU: HouseWash20