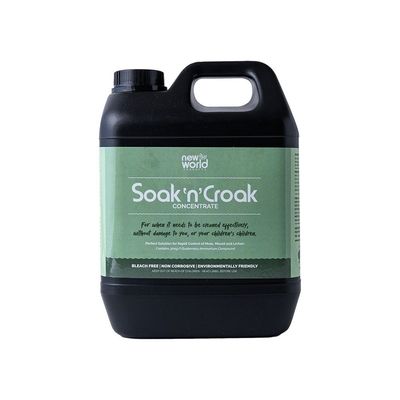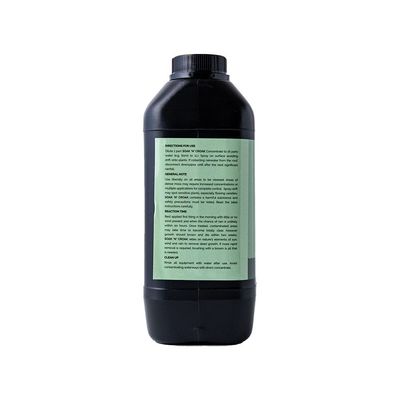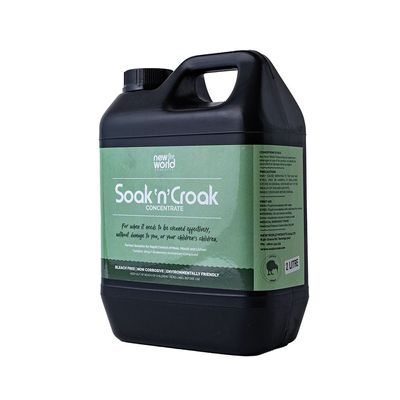 Soak'n'Croak Concentrate 2 - 5 Litres
New World Products
$67.00
It kills moss, lichen, mildew and slime on roofs, decks, awnings, walls, steps, paths, cobblestones, garden furniture and umbrellas. OK on tarseal drives, tennis courts, playgrounds and car yards. Kills moss on lawns too, won't kill grass* or weeds.

Dilution:
Our concentrate is 30% Active Ingredient plus additives i.e.: 300g Active Ingredient per litre. We recommend mixing 1 part Soak 'n' Croak with 16 parts of water to make a 2% SPRAY MIX.
An easy way to mix at 1 - 16 ratio. Multiply 59mls by the number of litres you require.

Example: Your sprayer holds 7 litres. You put 59 x 7 = 413 mls into your tank and fill with water to the 7L mark.
You now have 7L of 2% mix.
Pump up, spray on liberally, LEAVE ON.
On porous surfaces Soak 'n' Croak will reactivate for 2-3 months (after rain).

Application:
Use I litre of spray mix per square metre of severe Infestation. This should never be necessary for surfaces cleaned regularly. Expect 1 litre of mix to cover about 2½ square metres of horizontal surfaces such as paths, driveways, cobblestones, marinas, patios etc., and about twice that of walls (vertical areas). We will not encourage you to use weak spray mixes nor to apply less volume than required to achieve success.
The average size tile house roof will absorb about 100 litres of SPRAY MIX. This requires about 7 litres of 30% Soak 'n' Croak concentrate (diluted 1-16 with water).

Roofs:
Galvanised iron roofs and glasshouse roofs can absorb little (spray until it runs off). We therefore suggest you spray with double strength (1-7 mix) for faster results. You will need about 40 litres of mix for an average size house.
For quicker results it will pay you to spray twice, about 2 hours apart, any areas seriously infected by lichen. It is not necessary however as it will die within weeks anyway.

Stone:
Hinuera stone and slime only need a mix of 1 part Soak 'n' Croak to 25 parts of water.

Tarsealed:
Tarsealed Tennis Courts and Surrounds, average area about 600 square metres.
Let's assume only about 1/3rd of total area actually needs spraying for lichen. For quicker results, we recommend double strength spray mix (1 - 7 water). You will need 1 x 20L and I x 5L of concentrate to do about 200 square metres at double strength.
Slime on Tarsealed courts Is a common problem. Spray at 1 - 14 water. Be warned that the court can still be slippery after rain for some months (while chemical is still reactivating).

Swimming Pools:
Swimming pools - "Winterising your pool". Put 1 litre of Soak 'n' Croak concentrate to every 10,000 litres in your pool. Circulate or allow wind to mix. Nothing can now grow in the pool. In spring return to your normal routine.
Marina:
Boats - Soak 'n' Croak has been recommended for boats rigging and sails. Use Soak 'n' Croak for cleaning boats especially spraying those areas you fish from (after cleaning up). You will get far less bad fishy smells, spray on - leave to dry on. It'll work while your boat is not being used.

About Lichen:
Our recommended spray mix of 1 part Soak 'n' Croak to 16 parts water will kill lichen. However, lichen takes a long time to show that it is dying or dead. While moss reacts within a couple of days, lichen may take weeks to lose colour. If you want to see quicker results spray at twice the usual strength i.e. at 1 part Soak 'n' Croak to 7 parts water.
Reaction Time
Best applied early in the morning with little or no wind present and no chance of rain within 6 hours. Growth should brown and die within 2 weeks. Sun, wind and rain will remove dead growth given time - could be months. If rapid removal of dead growth is required, brushing with a broom is all that is needed.

Mould:
Mould on Ceilings, walls etc. Spray with a mixture of 2 teaspoons of Soak 'n' Croak concentrate per litre of water.
To Prevent Mould Forming
Mould forming on ceilings, walls of showers, bathrooms, toilets and other damp places can be largely prevented by spraying with a mixture of ½ a teaspoon of Soak 'n' Croak concentrate per litre of water. Spray on and leave to dry.

Caution:
Plants, Shrubs Warning
Any product capable of killing moss, lichen, mould and slime will affect plants. If spray accidentally falls on foliage, especially flowers in bloom, it should be hosed off within a short time, otherwise the spray kills the green component of the leaves causing white spots on them. Particularly avoid spraying in breezy hot weather.
Roof Water
If you are collecting rainwater for domestic and stock use, disconnect your tanks for at least one good rain (2 would be better).
Pets Warning
Keep pets off freshly sprayed areas until thoroughly dry, they could be poisoned by licking chemicals from their paws. (We have no cases reported to date).
SKU: SOAK2